Happy Monday readers!!! I hope you all had a wonderful weekend. Before I get to my exciting announcement, it's Monday, and you know what that means! I'll be heading to my local Anthropologie store tonight to scope out the sale! If there are markdowns, I'll be back tonight to let you know what they are. Fingers crossed!
Now onto something really exciting! It's time for another giveaway here at Anthroholic! This lovely giveaway comes to us from
Nana by Sally
. Sally, the designer of Nana is offering a lovely Sophie clutch to one lucky reader!
First let's learn a little bit about Nana designer Sally and the inspiration for starting her fabulous handbag line.
Sally grew up in a house that fostered the arts. Ironicially enough, she majored in Anthropology in college due to my interest in other cultures and passion for understanding what defines different societies. After college, Sally met her husband and got married. Four years ago, they had a beautiufl little girl who they named Sophie. One night, Sally was trying to find someone to hire to make curtains for Sophie's room. After looking around the internet, Sally decided she could learn to sew and make the curtains herself. She went out that week and purchased a sewing machine and that weekend, enrolled in a sewing class. By the next week, Sally was already designing her own bags and drawing out her own patterns.
As the bag idea continued to grow, she decided that no one better personified the concept than my hero, her great grandmother, Nana. Sallys grandmother lived to be 96years old and was loved by everyone for her wit and compassion. The four dots in the Nana logo represent the four generations of women who are here because of Nana: Sally's grandmother, her mother, herself and her daughter.
Nana bags are inspired by all the women in Sally's life. She combines different fabric textures and colors to make them as unique as all the women are. Nana bags will never look homogenous or "factory made." After all, Sally believes we should embrace our imperfections and differences!
Not that you know the background, I think you can see that whomever wins the Sophie clutch is getting one truly special bag made with a lot of though and love!
One lucky winner will win this Sophie Clutch: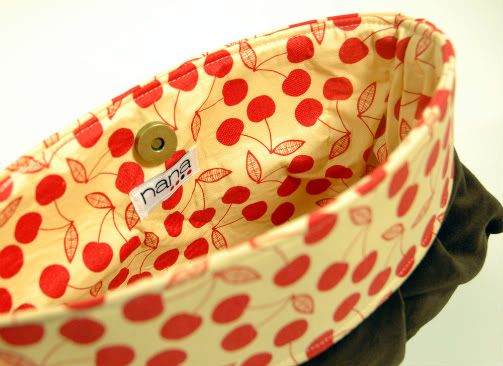 One-of-a-kind "Sophie" style clutch bag. Retails for $65.00.
FEATURES:
-Exterior Fabric (bottom panel): Chocolate brown velvet
-Exterior Fabric (top panel) and Interior Fabric: Cream cotton with cherry print
-Magnetic snap closure
-Front pleats on exterior
-Fully interfaced for added structure and durability
-Reinforced stitching on all stress points
-Protected with Scotchgard
DIMENSIONS (approximate):
-Width at bottom: 12 inches
-Width at top opening: 11 inches
-Height: 7 inches
Here's how to enter to win:
~ You must be a follower of Anthroholic
~ You must visit either Sally's website
here
or Etsy shop
here
and leave a comment letting me know what your favorite bag is.
~ One extra entry if you tweet about this. Please leave me a comment letting me know you did.
~ One extra entry for blogging about this. Please leave me a comment with a link to your blog post.
~ Make sure you include your name and email address in your comment. Comments without name/emails will be deleted.
~ Giveaway is open to U.S residents only
~ Giveaway will end Monday, September 6, 2010 at 11:59pm CT.